Electronic invoicing represents the pivotal point in the order-payment process and creates greater cohesion between Companies, Banks and PA.

Immediate reconciliation of collections and payments with invoice documents, the possibility to access credit by requesting advances on invoices, and PA credit certification, are functionalities that create value for both Businesses and Banks.
Since June 2014, Companies that want to send invoices to Public Administration bodies must use electronic invoicing to ensure certainty of payments in a rapid and cost-effective manner.
Nexi, as an Intermediary of the Interchange System, provides a secure and reliable connection and full adherence to all technological standards and current legislation.
The platform's main functionalities supporting invoicing to PA are the following: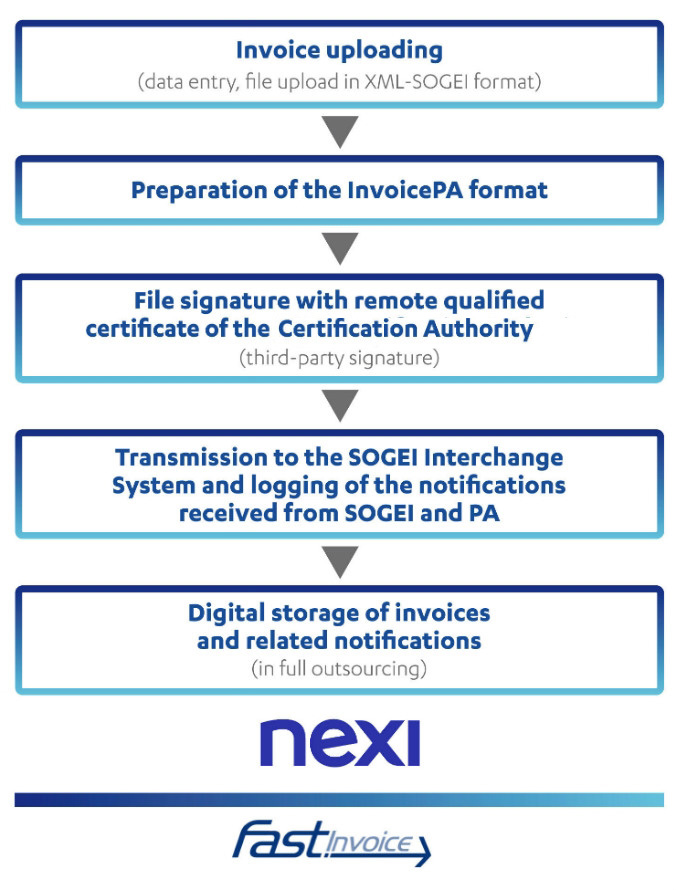 The Fast Digital Invoicing solution is predisposed for integration with corporate ERPs thanks to an ANY-IN/ANY-OUT approach, guaranteeing the correctness and integrity of the Customer's data and reducing the possibility of errors and exceptions.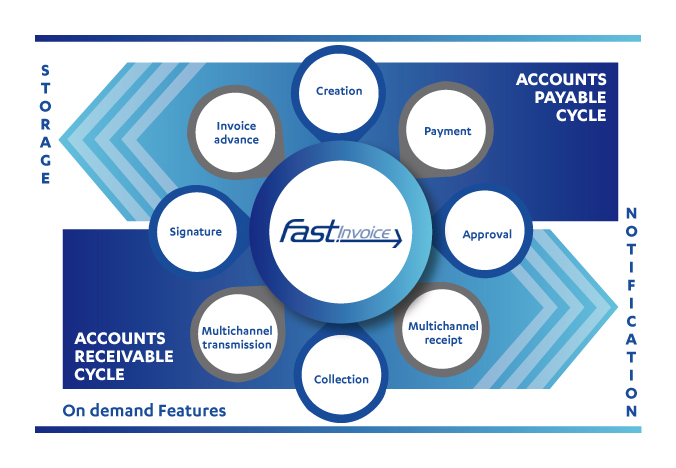 Nexi has created an electronic invoicing platform addressed to business-to-business, business-to-government and business-to-consumer (Invoice Collaborative Business Platform) suitable for both large corporations and SMEs, thanks to the flexibility of the integrable and customisable modules based on the needs of each Customer.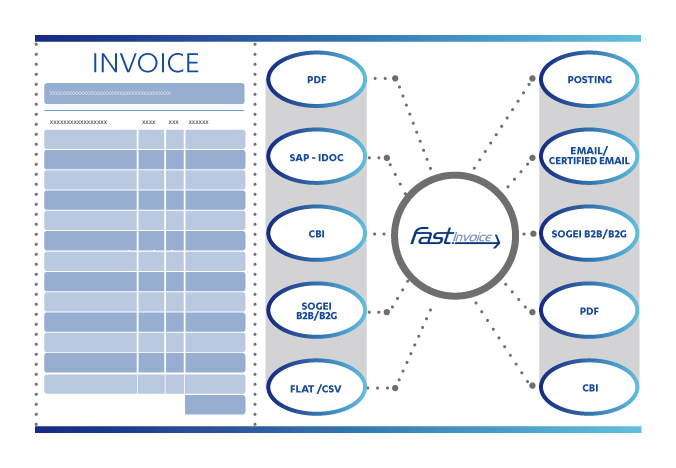 Main functionalities offered by the platform
Customer and supplier management


Counterparty master data and B2B/B2G shipping/receipt channels.



Accounts receivable/payable cycle management


Document processing, digital signature, multi-channel issue, submission and approval. 

Digital storage


Compliant storage of commercial and fiscal documents (invoices, orders, transport documents, accounting ledgers, evaluation forms, price lists, etc.) with digital signature and time stamp.
The platform for the Financial Supply Chain
Public Administration Credit Certification and Digital Storage

Connection with the Ministry of the Economy and Finance platform to request credit certification of amounts due for staffing, supplies, contracts and professional services from PA
Management of outcomes and credit request once certification has been obtained
Management of the process of archiving and digital storage of both fiscal and non-fiscal documents.


Collections, Payments and Invoice Reconciliation
Automatic and customised generation of invoice collection and payment instructions with inclusion of reconciliation information (for the creditor)
Generation of credit transfer instructions and transmission to the debtor
Outcome reconciliation, collection requests and payment notices based on the customisable data in the invoices (value date, amount, etc.).