"Cashback di Stato" is the new government initiative to encourage electronic payments on purchases made in a traditional shop. 

  Timeline

from December 08th to December 31st, 2020

from January 1st to June 30th,
from July 1st to december 31st, 2021

from January 1st to June 30th,
from July 1st to december 31st, 2021


  Requirements to participate
The recipients of the initiative are payment card holders, adults and resident in Italy.

Credit, debit and prepaid cards enter the initiative. Business cards are on the contrary excluded.

Minimum number of transactions
In December you need at least 10 transactions, and the refund will occur on February 2021. On the following half year you need at least 50 transactions e and the refund will occur 60 days from the end of the semester.

All purchases made in shop with cards and cards/App connected to payment circuits. Maximum refund amount 150€

Purchases made with corporate cards and e-commerce are not admitted.


  How to activate it
Today with your Nexi cards you can participate through Nexi Pay App in a few steps and without the need of SPID or electronic ID. In order to obtain Cashback, only with Nexi Pay you can count also on digital payments made through Apple Pay, Google Pay and Samsung Pay, beyond credit and debit cards.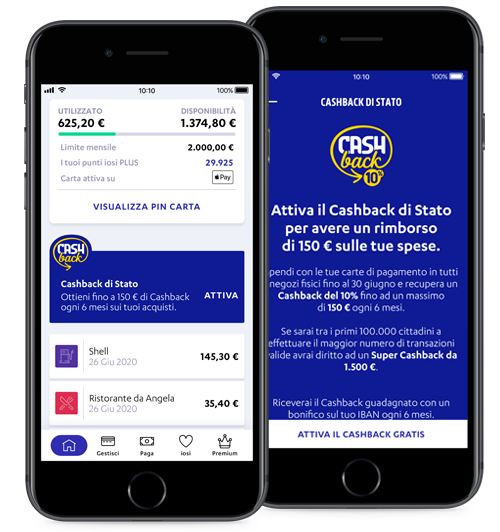 Choose the card on which you want to activate the service
 
Click on the box dedicated to Cashback to activate it and read the regulation
  
Check your personal data
  
Confirm or change the IBAN on
which you want to obtain the refund. Remember that you must be the holder 
  
Wait for the confirmation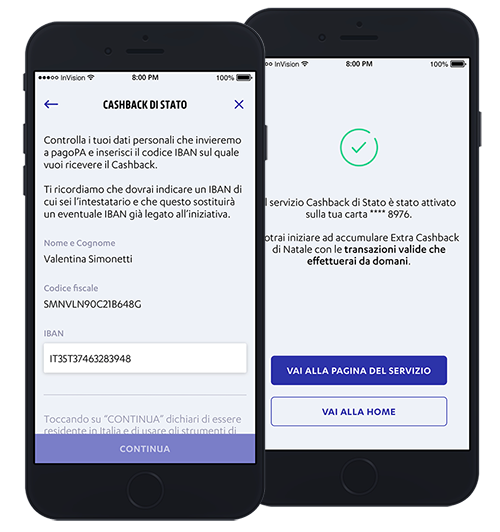 Check the trend of your Cashback.
From 2021 January you can enter Super Cashback!