Discover how to transform your big expenses in small ones.
Easy Shopping is the new functionality of your Nexi Credit Card: it allows you to choose how and when you want to pay your purchases. You feel free to decide how to pay your expenses for amounts of 250 euros up, either in one solution or in easy installments.
Easy Shopping is the best solution if:
You want to book your holidays easily
You have to face a sudden expense
You need to conclude a planned purchase
You prefer to manage your family budget flexibly
Why choosing  an Easy Shopping installment plan?

Freedom: decide when you want to pay every expense, activating Easy Shopping through App, online or via Call Centre
Flexibility: choose the number of installments for your purchase, even according to the available plafond of your credit card

Confidentiality: open your personal installment plan without any bureaucracy and independently, when you want, even at home

No surprise: you have fixed and simple commissions, clearly in evidence before you open your installment plan. You are free to extinguish your opened installment plan at any time, without additional costs.
Easy Shopping is available for expenses starting from 250 up to 2.400 euros and it is already included in all your charge credit cards, in the version Nexi Classic, Gold and Platinum of the Banks that join the service.
Test Easy Shopping service
Use the simulator and discover how simple and immediate is to pay your expenses in installments and choose the right plan for you.

How to activate Easy Shopping:

1) Open 'Transactions list' in Nexi website or App Nexi Pay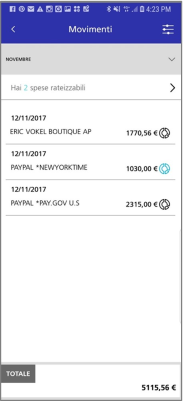 2) Select the charge you want to pay in installments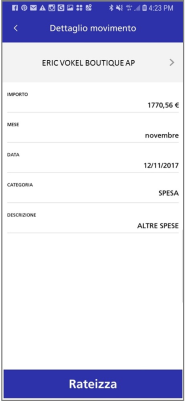 3) Select the number of installments according to your amount and plafond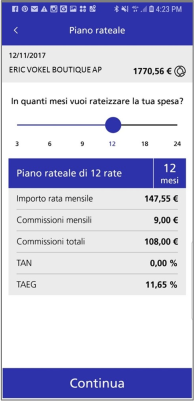 4) Confirm your choice and activate immediately your personal plan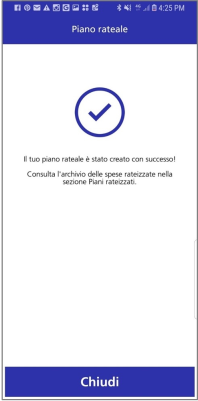 Advertising message with promotional purpose. For more information, refer to the fact sheets available in the Transparency section.