Accept payments with Nexi, broaden your horizons
Nexi allows you to accept payments with Cards on all the main international circuits including Visa, Mastercard, the Japanese JCB and Chinese UnionPay, as well as the PagoBANCOMAT debit circuit.

Being affiliated with Nexi allows you accept payments with credit, prepaid and debit cards issued on the main International Circuits on the part of millions of foreign and Italian Customers, and take advantage of numerous useful services.
The crediting of payments for your sales is immediate and secure.
Nexi accepts point-of-sale, e-commerce website, and mobile payments, and there are solutions for telephone and mail-order sales, automatic payments and much more.
With Nexi you can also accept payments from a smartphone made with the Nexi Pay App for Nexi cardholders.
Nexi Pay allows the Customer to pay securely and quickly directly from a smartphone, both at a point of sale with a contactless card reader and remotely for online sales.
See below for all the features and information required for both options.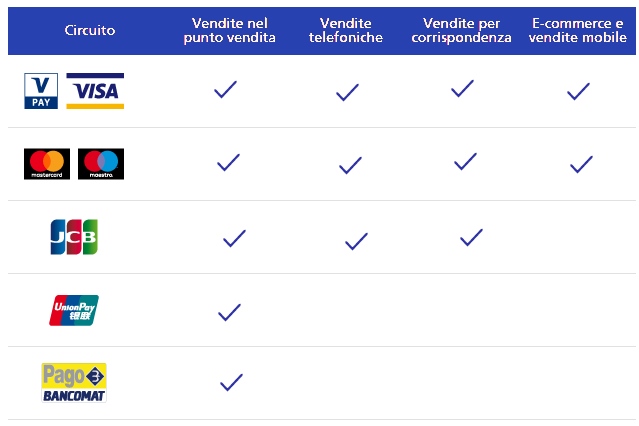 Discover other Nexi business solutions