Why choose the Nexi Fast Digital Invoicing solution
Nexi has designed a business-to-business, business-to-government and business-to-consumer electronic invoicing platform (Invoice Collaborative Business Platform), which is suitable for both large corporations and SMEs thanks to the flexibility of its components: modules that can be integrated and customised based on the requirements of each Customer.
Choosing Nexi Fast Digital Invoicing services today means:
Reducing acceptance and payment of invoice times
Increasing supplier-customer network loyalty
Facilitating the financing cycle
Reducing the possibility of errors and disputes.
The Fast Digital Invoicing solution is predisposed for integration with ERPs thanks to an ANY-IN/ANY-OUT approach, thereby ensuring the correctness and integrity of Customer data and reducing the possibility of errors and exceptions.

The main features of the platform are:
Managing Customers/Suppliers, counterpart register, and B2B/B2G receiving channels 
Management of accounts payable and receivable: processing, digital signature, multichannel emission, submission and approval
Digital storage: archiving of business and tax documents (invoices, orders, delivery notes, account ledgers, assessment forms, price lists, etc.) in accordance with the law, with digital signatures and timestamps.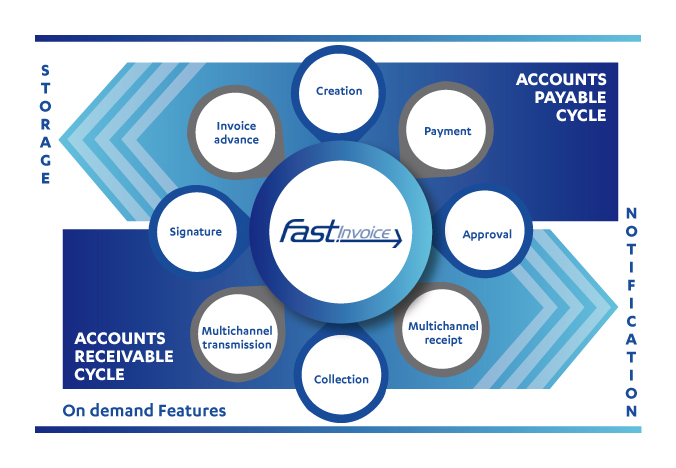 The Financial Supply Chain platform
Advance invoices

Send advance invoice request transactions to the Bank providing facilities
Manage advance invoice request output.
Certification Credits for the Public Administration and Digital Archiving
Connect to the Ministry of the Economy and Finance platform to request certification of credits for sums due for public administration purchases, contracts, administration and professional services
Manage output and credit requests once the certification has been obtained 
Manage archiving and digital storage process of fiscal and other documents.
Collections, Payments and Invoice Reconciliation
Automated, customised generation of orders for invoice payments and receipts with entry of reconciliation information (for the creditor)
Generate bank draft provisions and send them to the debtor
Reconciliation of output, collection requests and payment notices based on invoice data (value date, amount, etc.).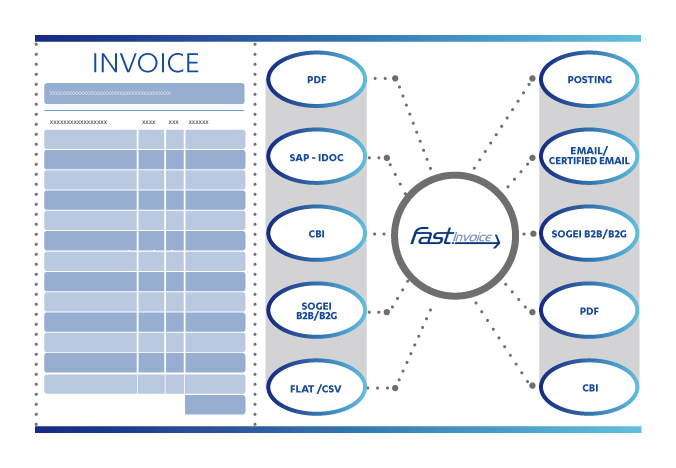 Billing Public Administration
Immediate reconciliation of receipts and payments with the invoice documents, the possibility of accessing credit through the request of advance invoices and certification credits from Public Administration, features that create value both for Companies and for Banks.

From June 2014, Companies sending invoices to public bodies must use electronic invoicing to ensure fast, more cost-effective payments.
Nexi, as the intermediary of the Interchange System, offers a reliable and secure connection with full adherence to all the technological standards and regulations in force.
The main features of the platform support billing for Public Administration: